How can I finally forget to talk about the winner of the best Film| Makeup and Hair in 2014?
The "battle of brushes and tongs" was really hard and competitive especially among massive movies and makeup departments, such as "The Great Gatsby" and "The Hobbit: The Desolation of Smaug".
But nobody could stop the creativity of the magical makeup team of "American Hustle", composed by Evelyne Noraz (makeup-department head), Lory McCoy-Bell (Bradley Cooper's hairstylist) and Kathrine Gordon (hair-department head).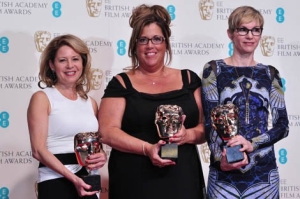 The looks were inspired by the '70s.
The makeup is really glamorous for the actresses: more classy for Amy Adams and a bit more colourful and tacky for Jennifer Lawrence.
It's really interesting how the hair department explains the experience to turn the main actors' hairstyles in already "dated" ones: the popular "Christian Bale's combed-over", the long hair-drying process for Cooper's hairstyle, the sexy curls of Amy Adams and the showy blond wig of Jennifer Lawrence.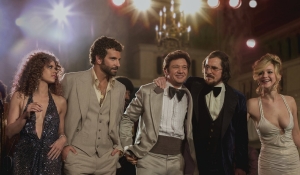 Definitely a movie to watch! Congrats to the winners!