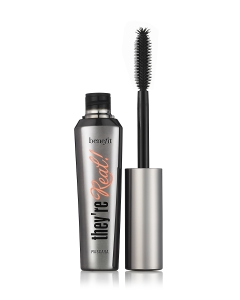 The Benefit mascara "They are Real!" proved itselves as a revelation: its formula is neither too liquid nor too dry. In my opinion the colour is a very nice lucid black. The more you apply on the eye lashes, the more volume it's gonna be the result, which can be a little dry but not as if it's gonna crack and fall under the eye. It's incredible how the natural eyelash turns in a "real" fake eyelash effect, that looks glam, voluminous giving a "real" sexy and open look to your eyes.
Why have I started to love this product? It lengthens, curls, volumizes, lifts and separates. It won't smudge and dry out. Personally I can't go out without this product on!
What makes it so special is the brush, whose special design reveals lashes that you have never noticed to have. Try it now!