The Oscar night finished with many revelations and surprises:
"12 Years a Slave" won for the best picture of the year.
"Gravity" won the most Oscars with a total of seven. Among them, a prize for the director, Alfonso Cuaron.
"Blue Jasmine's" Cate Blanchet was named the best actress.
"Dallas Buyers Club" took home three awards: Matthew McConaghey won for the best leading actor, leavening the audience "speechless" for the defeat of Di Caprio in "The Wolf of Wall Street". A new "revelation actor" of this year has been definitely Jared Leto, who won an Oscar for the best supporting actor.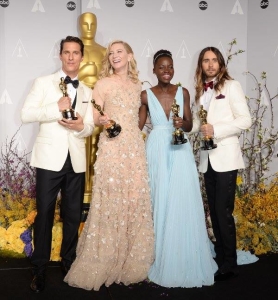 The third Oscar was the most unexpected for the crew and cast of "Dallas Buyers Club": the makeup and hair department, Robin Mathews and Adruitha Lee,  won for an amazing job in makeup and hair. This incredible result was achieved with a very small budget ($250), as Robin says, so everyone worked very hard in order to make it happen and the research for the makeup materials had been very deep in order to stay in the budget costs. Jared Leto had to wax completely the eyebrows and both actors, McConaghey and Let, appear increasingly ill throughout the film, an AIDS drama, thanks to a precise and hard work of highlighting and contouring every single bone and vein that Mathews could find in the whole body.